Heating, Ventilation & Air Conditioning (HVAC)
33-week program/990 hours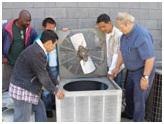 Summary
2017 Median Pay  $48,320 per year
$23.23 per hour
Entry-Level Education  Postsecondary non-degree award
Number of Jobs, 2017  332,900
Job Outlook, 2016-2026 15% (Much faster than average)
Employment Change, 2016-2026  48,800
What Heating, Air Conditioning, and Refrigeration Mechanics and Installers Do:
Heating, air conditioning, and refrigeration mechanics and installers—often referred to as HVACR technicians—work on heating, ventilation, cooling, and refrigeration systems that control the air quality in many types of buildings.
Duties
Heating, air conditioning, and refrigeration mechanics and installers typically do the following:
    Travel to worksites
    Follow blueprints or other design specifications to install or repair HVACR systems
    Connect systems to fuel and water supply lines, air ducts, and other components
    Install electrical wiring and controls and test for proper operation
    Inspect and maintain customers' HVACR systems
    Test individual components to determine necessary repairs
    Repair or replace worn or defective parts
Heating and air conditioning systems control the temperature, humidity, and overall air quality in homes, businesses, and other buildings. By providing a climate controlled environment, refrigeration systems make it possible to store and transport food, medicine, and other perishable items.
Although trained to do all three, HVACR technicians sometimes work strictly with heating, air conditioning, or refrigeration systems. They also may specialize in certain types of HVACR equipment, such as water-based heating systems, solar panels, or commercial refrigeration.
Depending on the task, HVACR technicians use many different tools. For example, they often use screwdrivers, wrenches, pipe cutters and other basic handtools when installing systems. To test or install complex system components, technicians may use more sophisticated tools, such as carbon monoxide testers, voltmeters, combustion analyzers, and acetylene torches.
When working on air conditioning and refrigeration systems, technicians must follow government regulations regarding the conservation, recovery, and recycling of refrigerants. This often entails proper handling and disposal of fluids. 
Some HVACR technicians sell service contracts to their clients, providing regular maintenance of heating and cooling systems.
Other craft workers sometimes help install or repair cooling and heating systems. For example, on a large air conditioning installation job, especially one in which workers are covered by union contracts, ductwork might be done by sheet metal workers and duct installers, or electrical work by electricians. In addition, home appliance repairers usually service window air conditioners and household refrigerators.
Job Outlook
Employment of heating, air conditioning, and refrigeration mechanics and installers is expected to grow 34 percent from 2010 to 2020, much faster than the average for all occupations. Commercial and residential building construction will drive employment growth as the construction industry continues to recover from the 2007-09 recession. The growing number of sophisticated climate-control systems is also expected to increase demand for qualified HVACR technicians.
Climate-control systems generally need replacement after 10 to 15 years. A large number of recently constructed homes and commercial buildings will need replacement climate-control systems by 2020, spurring demand for technicians.
The growing emphasis on energy efficiency and pollution reduction will require more HVACR technicians as climate-control systems are retrofitted, upgraded, or replaced entirely. Regulations prohibiting the discharge and production of older types of refrigerant pollutants also will result in the need to modify or replace many existing air conditioning systems.
Pay
The median annual wage of heating, air conditioning, and refrigeration mechanics and installers was $53,150 in May 2013. The median wage is the wage at which half the workers in an occupation earned more than that amount and half earned less. The lowest 10 percent earned less than $26,490, and the top 10 percent earned more than $66,930.
CAJ Course of Study:
This course provides training in the installation of air-conditioning and heating equipment including refrigeration recovery. The student will gain the knowledge and technical skills necessary to install and repair equipment ranging in size from small units to large central heating and air-conditioning systems. Students will take and pass the International 608 and 609 Refrigerant Handling tests as well as the Universal R-410A examination.  Students may also take the electrical, heat pump, and green technology examinations.
Attend classes 8:30 a.m.-3:00 p.m. daily
Participate in hands-on class room demonstrations of skill and knowledge
Graduates receive a Certificate of Completion and Skills Sheet: Heating/Air Conditioning Installer and Service Technician.
All teachers are credentialed by the California Commission on Teacher Credentialing.
The teachers providing vocational training have work experience in related business and/or industry.
Employment Opportunities
Field Service
Installation
Manufacturing & Sales
Government & Utilities
Production
Shop Service
Repair Technician
CAJ Gainful Employment Data:
• Graduation Rate for Completers:  82%
• Placement Rate for Completers:  82%
Required Orientation & Assessment
Every Wednesday 8:15 a.m. - 11:00 a.m. in the Multi-Purpose Room.
Please bring your government issued picture ID (i.e. Driver's License, DMV ID card, etc).
NO CHILDREN PLEASE.